Chennai which is commonly known as the "Detroit of India" is one of the biggest metropolitan cities and according to The Quality of Living Survey; Chennai is the safest city in India. Chennai has become one of the preferred destinations for IT – ITeS companies as it has the perfect combination of professionals and talent base for the businesses to flourish. The city has about 25 Plus IT Park in and around the major part of the city and is well connected to various modes of Transportation. Supported by favourable business climate in terms of Infrastructure, SEZ's, Literacy Rate, Transportation and Government support the Industry has also grown steadily creating direct and indirect employment.
In no particular order, the following is a list of Best IT Parks in Chennai.
DLF Cybercity – Manapakkam
DLF Cybercity is developed by DLF Assets LTD. One of India's most successful SEZ developments in the Southern Region of India located in Mount Poonamallee Road. It's a World-class development, spread across 46 acres complex with 8.3 million sqft operational with Platinum LEED certificate.
The Project comprises of 13 blocks Approx of 417900 sqft with a typical floor plate of 38000 sqft. Further the development has mix of retail formats, outdoor sports facilities, café, health and wellness center with food court, day care, medical center, etc. Designed along the lines of a campus – an architectural breakthrough from conventional office structures – it allows open breathing spaces and verdant green zones amidst office blocks. The location is well connected with Airport and other public transport and accessible to both GST Road as well as OMR.
Key Occupiers: IBM, CTS, TCS, BNY mellon, Barclays, Mphasis, CSC, NTT data, L&T Infotech, L&T IES , E&Y
Embassy Splendid Techzone – Thoraipakkam-Pallavaram
Embassy Techzone is developed by Embassy and has partnered with SNP Infrastructure to develop a landmark 30-acre SEZ property. The project includes both SEZ and Non-SEZ areas and is strategically located on the Thoraipakkam-Pallavaram Road. It is easily accessible from both OMR and GST roads.
The Project comprises of 4 blocks it the built-up area 3.5 Million sqft with all modern amenities have 3 level of basement parking. Phase 1 of this project is 2.2 million Sq. Ft. and is currently under construction. 2 million Sq. Ft is proposed for future development. It is easily accessible from both OMR and GST roads; The SEZ is less than 4 km from the Chennai airport, Pallavaram & Velachery railway station, IT Parks, restaurant, bus stop and schools.
Key Occupiers: Accenture, Wells Fargo.
Chennai One – Pallavaram Thoraipakkam Road
Chennai One is owned By IG3 Infra Ltd. It is situated in the special economic zone facility in Pallavaram Thoraipakkam Road. The project total built up area of 3.8 million sqft spread across 2 Towers Chennai One Magnum & Chennai One Alpha, Each Towers has 12 floors with a typical Floor plate of 124000 sqft.
The project is of smart, connected and collaborative workspace with world-class infrastructure with thoughtful localisation and plush amenities from the foodcourt, crèche and daycare, amphitheatre, atrium, banks, ATM's, green spaces, open-air library, retail services and more. It is easily accessible to both GST Road as well as OMR.
Key Occupiers: TCS, HCL, DHL, ATOS, Polaris, Ford Business Centre, Comcast, ensono, hexaware, icon, integra, OEC, Prodapt, Qburst, Teikon, Wells Fargo.
Gateway Office Parks – Perungalathur
Gateway office parks SEZ integrated development. The magnificent, commercial tower is jointly developed by the venture of Shriram properties and SUN Apollo and is located in Perungalathur.
It is spread across 58 acres with a super built up area of 3.5 million sqft consisting of 8 Blocks with shopping malls, multiplex, hotel, service apartments, recreational facilities, health club, landscape views, day care centre, coffee shop and restaurants. The location is well connected with Airport and other public transport.
Key Occupiers: Accenture, CSS Crop, Sutherland Global Services, Technosoft, Egton, Fidelity, ReDim, Mobius, Navitas LLP.
Raheja Commerzone – Porur
Commerzone one of the top IT parks in Chennai developed by K Raheja. It is an under-construction asset located in Porur. It is spread across 6 Acres of Land with a total built up area of 11, 05,000 sqft Comprising 2 Towers A & B.
It is easily accessible through public transport and is close to all the major celebrated markets and amenities. Additionally, the landholding has some renowned hotels and dining options nearby. The location is approximately 10.5 km from Domestic and International Airport. The Tech Park offers spacious and skilfully designed commercial office space with spectacular in-house parking backed by 24×7 security service.
For more Tech park and office space options kindly get it touch with us https://orelpc.com/contact-us/
Brigade WTC (World Trade Centre) – Perungudi
Brigade World Trade Centre, An iconic commercial LEED Platinum development with Special Economic Zone benefits. The project is a Joint Venture between Brigade & GIC (Singapore Investment Corporation). The development consists of a built up area of 1.8 million sq.ft spread across two towers. WTC Chennai will be the tallest commercial establishment in the city located in a strategically ideal position in Perungudi most coveted IT corridor.
WTC encloses two towers that are enclosed in 3B + G + 27F + T and 3B + G + 19F + T structure respectively. The campus has beautiful landscaped gardens, separate utility block with cooling towers, transformers, BMS and a large cafeteria, IPS flooring system, low e-glass facade, ample elevators, ample parking space, 100% power backup, complete air conditioned offices and a beautiful fountain area as well.
It is close to several well-known landmarks in Chennai such as Apollo and Fortis hospitals, renowned colleges such as IIT Madras, NIFT, Anna University, malls such as Phoenix Market City and five star hotels.
Key Occupiers: Amazon, Caterpillar, Mckinsey.
Ramanujan IT City – TRIL – Tharamani
Ramanujan IT City is a joint venture development by TATA Realty and Infrastructure limited, Indian Hotel Company Limited (IHCL) and Tamil Nadu Industrial Development Corporation (TIDCO). It is spread over 25.27 acres in which 4.5 million square feet has 6 towers of IT/ITES and is located in the Old Mamallapuram road north of the Tharamani IT corridor.
The IT Park is being built in 6 blocks with 13 floors with floor-plates ranging from 50,000 to 100,000 Sqft, including 5 level of car parking, lush greenery, landscaped podiums with informal seating, a Zen garden, amenities like a Food Court, Bank, ATMs, Gymnasium etc and covered walkways connecting all towers. The project has obtained Green Building and IMS certification and it is surrounded by IT Parks, railway station, transport hubs and day-care centres.
Key Occupiers : Amazon, Cognizant, HP, TCS, Infosys, Mindtree, Citibank, Fidelity, Pershing, AstraZeneca, Cisco, Wipro, Sitel, GE India, Thryve, SocieteGenerale, Agilysys, Philips, NTT Data, DXC Technologies and Scientific Publishing Services etc.
RMZ Millenia – Perungudi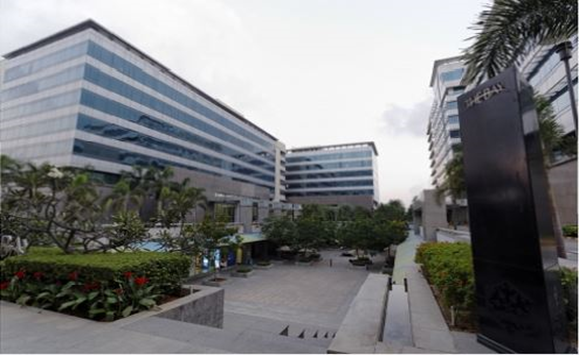 RMZ Millenia Tech park is developed by the RMZ Group, It is one of the RMZ' pioneer project in Chennai. The project is spread across 21 acres and is Located on the MGR Salai, Perungudi. The Tech Park comprises of 2 phases (Millenia 1 and 2) Phase 1 was completed in 2006 and Phase 2 was completed in 2009. Redefining the idea of finest office space, Millenia is rooted in inspiration and motivation by bringing in sense of well-being and great work atmosphere.
Millenia has a total built up area 3.2 million sqft spread across 9 blocks with in-house food court, ATM, Bakery, gift store, amphitheatre, art gallery, bus stops, day care centres etc. It is close to several well-known landmarks in Chennai such as Apollo and Fortis hospitals, renowned colleges such as IIT Madras, NIFT, Anna University, malls such as Phoenix Market City and five star hotels.
Key Occupiers: Ford, Shell, McDermott, Omega healthcare, Flextronics, Schawk and Videocon.
Pacifica Tech Park – Navallur
Pacifica Tech Park is developed by the Pacifica Companies. The project accommodates to the specific needs of the Information Technology and Business Process Outsourcing (BPO) segments. The tech Park state-of-the-art integrated Information Technology Park developed on 7.29 acres of land in the fastest growing corridor of Chennai – Rajiv Gandhi Salai, Navallur, Old Mahabalipuram Road.
The Tech Park It is a 7 floored building with a total built up area of 994000 sqft and comprises of 2 Blocks. Exceptional in its stature and effective in its brilliance, The state-of-the-art technology zone features a smart fire protection system , 24 x 7 Power Back up, Ample car parking space, Sewage Treatment Plant, ATM, Food Court, Retail Store and Gymnasium among other facilities. It has good connectivity, the nearest railway station is 17 km away and the airport is 25 km away.
Key Occupiers: Infosys, Nokia, Future Pipe, Global Analytics, SunGard, Hamon Research, Bank of America, AGP CGD, Altran India.
KOSMO ONE – AMBATTHUR
KOSMO ONE PARK is an iconic commercial space; it is developed by One India Bulls and currently owned by Blackstone group. It is located in the heart of Chennai in Ambathur. It is spread across 10 acres with a super built up area of 2.4 million sqft comprising of 3 Towers A, B & C, comprising of 3 Basements + G + 12 Floors of office space.
The Park is energy efficient and it is a GOLD Rated Green Corporate Park. The Tech Park has a world – class contemporary structure, equipped with amenities like spacious food court, ATMs, Retail stores and much more. It is just a short commute from the Central business District and close to all major transport.
Key Occupiers: Royal bank of Scotland, Yes Bank, Access Healthcare, Kone Elevators, Hinduja Global Solutions.
Ascendas International Tech Park – Tharamani
Ascendas International Tech Park developed by Ascendas -Sing bridge Group, The Grade A hi-tech park Located in the IT corridor Tharamani. It is spread across 15 acres with a super built up area of 2 million sqft comprising of 3 blocks (Pinnacle, Crest and Zenith).
The Park also has in house food Court and 54-room guest accommodation facility, Other conveniences such as banks, ATMs, Forex facilities, gift shops, pharmacies and travel agency—all thoughtfully set up within the park. It is located close to Schools, railway station, Transport hub and residential area. It has received the FIABCI Prix d 'Excellence Award and USGBC LEED certification.
Key Occupiers: Caterpillar, BNY Mellon, Atos, Merrill, Olam, Adatavant, Wipro, Bally Technologies, Lumina Datamatics, Emerson, Lennox, BNP Paribas.
For more Tech park and office space options kindly get it touch with us https://orelpc.com/contact-us/